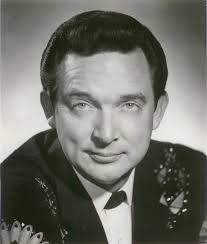 Trained To Be A Vet
Noble was playing guitar and singing as a teen, but his mom and step-father hoped he would follow them into the fashion design business.  Nobile knew he needed a steady career, so he began studies in veterinary medicine, and attended North Texas Agricultural College.  His studies were interrupted when he was drafted in 1944.  He served in the Pacific Theater and in 1972 he was honored as a distinguished alumnus.
Returning from the war, he reconsidered his future.  He was too small to work with large animals, so he worked on his father's farm, and began performing at local events.  It was Noble's song, "Give Me More, More of your Kisses" that became a hit for Lefty Frizzell.
Noble went on to become one of the best male voices in Country Music.  He recorded mostly in 4/4 time, instead of Country's traditional 2/4 time.  He was inducted into the Country Music Hall of Fame in 1996, and toured into his eighties.
Noble preferred his middle name, Ray, and that became his performing name.
Join me next Saturday, November 30 at 9:20, for more with Ray Price!
Jeff Norgate and you…Saturday mornings…on CKNX!