Bell, Dorothy (Age 92, Harriston)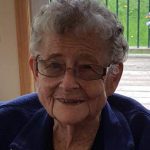 Dorothy Eleanor (Weiss) BELL of Harriston, on Monday in her 93rd year.  Beloved wife of the late Bob Bell. Sister-in-law of Verna Weiss of Harriston, Doris Bell of Aurora, and Doris & Glen Hale of Harriston.  Also survived by many nieces and nephews. Predeceased by her brothers Mel Weiss and Don Weiss, sisters Margaret and Pat Cooper, and Beatrice and Ralph Rock, sister-in-law Inez and Harold Williamson, and brother-in-law Eldon Bell.
Visitation will be held at the Hardy-Lee Funeral Home, Harriston on Friday,  from 12:30 PM until time of the funeral service at 2 PM  Interment in Harriston Cemetery.